Tourism News!
"Mark Your Calendar"the  weekly Blog by Tourism Director Debi Boughton as published in the Kirksville Daily Express.  This blog is updated every Tuesday. Updates and additional information can also be found for specific events on our Events Calendar.
Upcoming Events
Bicycling Weekend
April 21 & 22 features a gravel race on Saturday and a city street race on Sunday.
Weekend of Quilting 
Grab your scissors, thread that needle, thread and make something on April 27 & 28!  Sponsored by Kirksville Arts Association
See our Events Calendar for future events.  For Seasonal or Special Events, see our Festivals & Fun page.
Did you know? Many of the establishments under the EAT. tab also sponsor entertainment (hint: you may need to check out their linked Facebook page).
Hotel Updates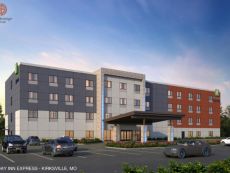 NOW OPEN!  The NEW Holiday Inn Express is on the south side of Kirksville.  They opened October 26, 2017.  Reservations are being accepted!
The OLD Holiday Inn Express will remain as a hotel and is now called University Inn & Suites.  Reservations are being accepted by phone only, 660-627-1100.
NOW OPEN!  Hampton Inn & Suites is located on the north side of Kirksville.  They opened FEB 15, 2018! Online reservations are now being accepted for March, 2018, contact Kirksville Tourism for a direct line for group or earlier reservations.
Now OPEN in Kirksville!
Lost Branch Lodge 
Lost Branch Lodge, located east of Kirksville in a rural setting, has rooms available for Parents Weekend! Each room features a queen and twin bed plus private bathroom.  Communal living room and kitchen privileges are shared with others guests.  Call for rates and reservations 660-341-8631.
You are given 60 minutes to find the keys, discover the codes, and escape whatever mess you and your closest friends have gotten yourselves into.  Check into "The Ville" and plan your Escape!  Call 660-851-4346 to reserve your experience.
Rejuvenate Massage Therapy
Rejuvenate is not just a spa, but a fitness and wellness center aimed at providing a variety of services that promote a positive life and a healthy body and mind. Our main goal is to help our clients with pain relief and relaxation through massage therapy, energy healing, and salt float sessions.
Kirksville In the News
Bright Northern Star, an article from AAA Midwest Traveler Magazine